Some of the 'cat' sites are just toooooo funny. I just found
MyCatHatesYou
which had me laughing so hard, I was in tears!!! How do people come up with these captions?
Spook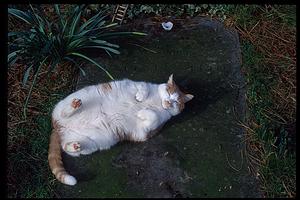 "'Just sizing up your grave, never you mind."
Pippin & Marie
"Tell the others...we attack the humans at sunset! uh, and sorry about the pink basket."
Marius & Demona
"'How the hell can WE help you find your dick? Does it look like we have microscopes?"
JTG
"First, those birds. Then, you."
Charlie Murphy
"'Here is where your frikking data went... asswipe."
I'm just dying here. OMG, how funny is THAT????? Here's more:
Wesley Buckaroo
and
Stuff On My Cat
. But it is going to take forever to to thru
MyCatHatesYou
because I start laughing so hard I start crying. Then Luna thinks something is wrong. Poor Girl. But I'm just laughing in a fit. These people should do a book.
All this funny stuff makes me miss my Dusty Cat so much. Sure am glad other people 'share' their cats! I just love the internet sometimes...toooo much funny stuff.
And in KNITTING NEWS, yes, I said KNITTING NEWS, I worked on a ROW of FBS last night. Which I now have to tink back. And that's ALL I'm going to say about THAT.