Free Yarn
!! Thanks for the link
Heather
!! It's at the
Get down with Bernat Disco
page. FREE YARN!! WHOOT!!
Oh No Pom-Poms
I just might have to MAKE this. And hey, y'all can make as much fun of me as you want, but pleassssseeee remember -- I live in Las Vegas where grown women wear glitter and feathers for WORK and to the grocery store. I have been known to wear Converse ALL-STARS daily; bobbley star antennas on my head while driving down the street in a '68 Cadillac Coupe-De-Ville (don't I wish I STILL had THAT car?); a GOLD LAME tuxedo and sequin vests -- to work.
So, believe me when I tell you, I'm not scared of ANY Pom-Pom scarf. Of course, somewhat sadly I must say, I haven't WORN many of these items for YEARS. WHAT the hell is going with that fact? I think I've gotten pretty boring. Except for the Chuck Taylors -- bought a new pair of Baby Pink ones this summer. Hmmmm, I guess I still have the edge. Hehhehhehhhhe
And here's an interesting note on a desert tortoise named Cactus that has traded in four bladder stones for a fiberglass underbelly at the
San Francisco Zoo
. And WHOW...look at this guy who is just mean.......
Mean Turtle -- NOT Mr. Tuttles
Luna has been wanting one of
these
to keep her falsely safe from this guy.
I Got Your BEAR Right Here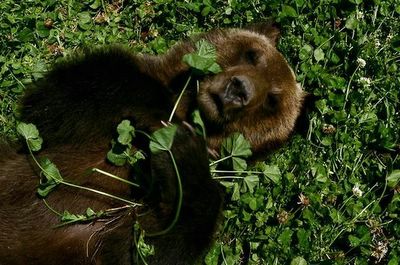 STILL slogging away on FBS and Black Clapotis. Try to stay awake to knit then I have no problem going to sleep. But staying asleep has really become a problem. WHY do I keep waking up at 2:15 am, to remain awake until 5:00 am? Can't DO anything but roll around in the dark and think, and think, and think, and think. It's making me crazy and sure ruins the rest of the day. When will it stop? And no, I haven't EVEN been thinking about this BEAR so THAT'S not it.